We're back with some fascinating dental talk, and this time, we're diving deep into the world of technology and how it's giving your smiles a modern makeover. Dr. Khetarpal and our team are dedicated to keeping you informed about the amazing advancements that make dental care more accessible and convenient than ever. Let's get into the tech that's changing the game!
Check Ups: The Foundation of Oral Health
Maintaining a healthy smile is a lifelong commitment, and regular check-ups play a vital role in achieving this goal. At Cincinnati Area Dentistry, advanced technology aids in preventive care and early detection of potential problems.
Preventative Checks- Dr. Khetarpal utilizes advanced diagnostic tools for comprehensive preventive checks, detecting issues before they escalate, and ensuring proactive dental care.
 Gum Disease Treatments– Advanced technology allows for precise diagnosis and tailored treatment of gum diseases. With early detection and targeted interventions, we ensure optimal oral health for our patients.
 Composite/White Fillings- We utilize state-of-the-art composite fillings, which not only look natural but also function effectively. These fillings are monitored regularly, with advanced radiography to ensure their proper sealing, making them a reliable long-term solution.
CEREC: Same Day Crowns for Convenience
We embrace CEREC technology, enabling the creation of same-day crowns. Traditional crown procedures involve temporization and waiting for weeks for the final restoration. With CEREC, the entire process, from preparation to placement, can be completed in a single visit!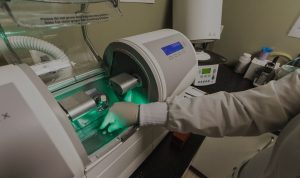 Invisalign®: Orthodontics Reinvented
For those seeking orthodontic treatment, Invisalign® provides a discreet and comfortable alternative to traditional braces. We employ 3-D computer imaging technology and Itero scanning to offer a simplified experience. This allows patients to visualize potential before-and-after results.
Dental Implants & Dentures
Dental implants are a game-changer in tooth replacement. They offer stable support for artificial teeth, preventing slipping and shifting during activities like eating and speaking. We also offer partial and full dentures for patients with multiple missing teeth.
Overall, technology in dentistry enhances patient care by making treatments quicker, more accurate, and less invasive, ultimately improving the patient experience and oral health outcomes.
At our two Cincinnati family dentistry's, we don't just talk about technology; we use it to provide top-notch dental care that's efficient and comfortable thanks to Dr. Khetarpal's dedication to the latest advancements in modern dentistry. So why wait? Schedule an appointment today and experience the future of dental care for your smile. You deserve it!