Learn all about the CEREC System, why it has 30+ years of success, and its benefits. You can finally win a beautiful smile with CEREC today!
30 Years of Sucess: The CEREC Procedure
CEREC, developed at Zurich University in 1985, has been utilized by thousands of dental practices worldwide to provide long-lasting and reliable ceramic restorations. Currently used by over 45,000 dental practices across 50 countries, CEREC has created a whopping 20 million ceramic restorations. Long-term clinical studies have proven it to be at least as durable as gold ones – and even better in certain cases. No wonder the usage of this system for dentistry continues to grow exponentially after 30 successful years! It offers a safe and efficient solution for providing patients with beautiful, natural-looking restorations quickly and with minimal discomfort. This is why Dr. Khetarpal and the rest of the Cincinnati team use the latest technology for your beautiful smile!
A Step-By-Step Guide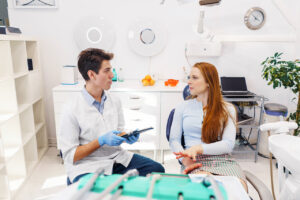 Do you have a chipped, discolored, decayed, or misshapen tooth? If so, get ready to smile again because CEREC is here! CEREC (Chairside Economical Restoration of Esthetic Ceramics) is an advanced CAD/CAM system. It allows dentists to quickly and accurately create inlays, onlays, partial crowns, veneers, and crowns for both anterior and posterior teeth. In nearly one appointment, you can have your damaged tooth restored and be smiling brighter than ever before.
The process starts with the dentist removing any bacteria-ridden tissue or existing fillings from the affected area. Then, imaging the tooth using the CEREC camera follows. This creates a 3D image that will be used to design a restoration onscreen – all while you wait! Once finished, a high-tech milling machine uses ceramic blocks to create your personalized restoration which is then bonded directly onto your tooth. This guarantees only the highest accuracy compared to traditional techniques where time was extended by taking impressions offsite. Simple!
Say Goodbye to Impressions, Temporaries, and Long Wait Periods: The Benefits of CEREC
The CEREC 3D measuring camera eliminates the need for unpleasant impressions by scanning the prepared tooth in only seconds. Plus, this procedure restoration is milled out of a solid ceramic block in a matter of minutes meaning they're ready to be placed immediately – no temporary fillings or crowns needed. This removes the need for any long wait periods and ensures that patients can get their tooth restorations in one appointment with almost immediate results. Not only are CEREC restorations aesthetically pleasing, but they have also proven their durability time after time, which is why their usage continues to expand exponentially across dental practices worldwide. Why wait? Overall, you only get one dentist visit, no impressions, no temporaries, and metal-free, highly aesthetic, and long-lasting wear when you choose this procedure.  Read more about why you should get a CEREC same-day crown.
If you need a dental crown, don't wait weeks to get one – ask your dentist about CEREC or contact us for a consultation!