Hey there, wonderful readers of Cincinnati Area Dentist!
Welcome to the world of cosmetic dentistry, where your dream smile becomes a reality. At Cincy Dentist, we specialize in the art of creating picture-perfect smiles, even in the most challenging cases or emergencies. Our dedication to excellence and the latest advances in cosmetic dentistry methods ensures that every patient can achieve exceptional results. Today, we delve into the intriguing realm of cosmetic dentistry, a field that seamlessly blends artistry with advanced technology to craft smiles of unparalleled beauty. Our team of dental artists carefully considers factors like tooth shape, color, alignment, and balance to design a smile that's uniquely you. We like to create a masterpiece that perfectly complements your facial features and personality. Get ready to shine bright!
A Wealth of Options for Your Smile Transformation
As your trusted Cincinnati cosmetic dentist, our practice offers a diverse range of solutions to enhance your smile. We understand that each individual's dental needs and goals are unique, and our mission is to provide you with the most effective treatment options tailored to your specific requirements.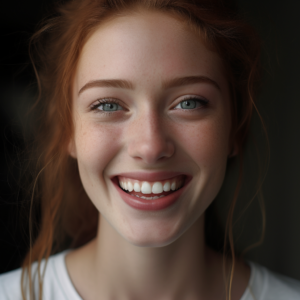 Here are some of the remarkable cosmetic dentistry procedures available at Cincy Dentist:
1. Implant Fixtures: Missing teeth can now be seamlessly replaced with implant fixtures, restoring both the appearance and functionality of your smile. Dental implants are a long-lasting solution that mimics the look and feel of natural teeth.
2. Bridges: Dental bridges are a classic choice for replacing missing teeth. Our expertly crafted bridges not only fill gaps but also blend seamlessly with your existing teeth, creating a harmonious smile.
3. Dentures: Whether you need partial or full dentures, our high-quality restorations are designed for both function and aesthetics. Dentures offer a natural-looking solution for extensive tooth loss.
4. Inlays and Onlays: These custom-made restorations are ideal for repairing damaged or decayed teeth. Inlays and onlays are precisely crafted to match your tooth's shape and color, ensuring a seamless repair.
5. Composite Bonding: Bonding is a versatile solution for minor cosmetic issues like chips, gaps, or discoloration. Our composite bonding treatments provide a durable and attractive result.
6. Teeth Whitening: We now offer Philips Zoom Whitening! It can brighten your smile by up to 8 shades in just 45 minutes. A whiter, more radiant smile is now within your reach.
7. Veneers: Dental veneers are thin, custom-made shells that are bonded to the front surface of your teeth. They are a powerful tool for correcting imperfections such as stains, chips, or misalignment.
Beyond Traditional Dentistry: Aesthetic Solutions
At Cincy Dentist, our commitment to your well-being extends beyond conventional dental care. Dr. Khetarpal's expertise extends to advanced treatments that enhance both your dental and facial aesthetics:
Botox: Dr. Khetarpal is certified by the American Academy of Facial Esthetics to administer botulism toxin (Xeomin) for facial rejuvenation. Our patients have achieved remarkable results in areas like the forehead, glabellar (between the eyebrows), and crow's feet. Botox treatments can prevent wrinkles and promote a more youthful appearance. But don't take our word for it, read our client testimonials.
Occlusal Bite Guards: For patients who clench their teeth or have experienced enamel wear, we recommend wearing a night guard. This preventive measure alleviates tooth fractures and muscle tension. It's especially important if you've undergone significant restorative dentistry to ensure the longevity of your crowns and veneers.
Your Smile Transformation Awaits
Cosmetic dentistry isn't just about aesthetics; it's about enhancing your self-confidence and overall well-being. We believe that everyone deserves a smile they can be proud of, and we're here to make that a reality. Each patient's journey begins with a personalized consultation with us. Together, we'll discuss your unique treatment goals and develop a tailored plan to achieve your dream smile. Contact us today to schedule your consultation and embark on your path to a more beautiful, confident you. Your smile transformation awaits at Cincinnati Area Dentist 🙂